Good morning,  The Library is now open!  Check out the new Library Smore, #32, for new additions!  Have a great week!  
https://www.smore.com/0sq7t
-Ms. V

Lawrence Music Tri-M music honor society recital showcased the depth and breadth of our talented student musicians. The entire music department staff have well prepared these amazing musicians. Performance is available on our channel through link posted.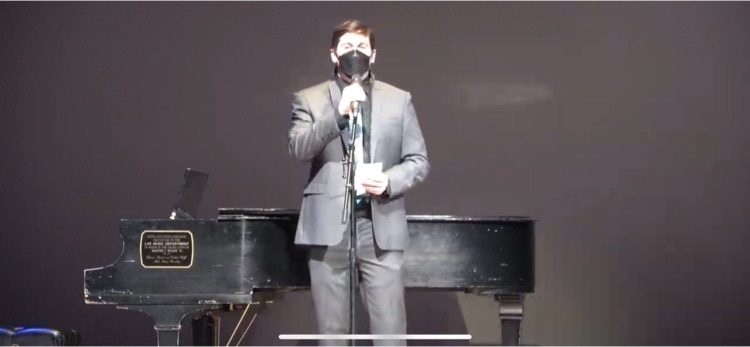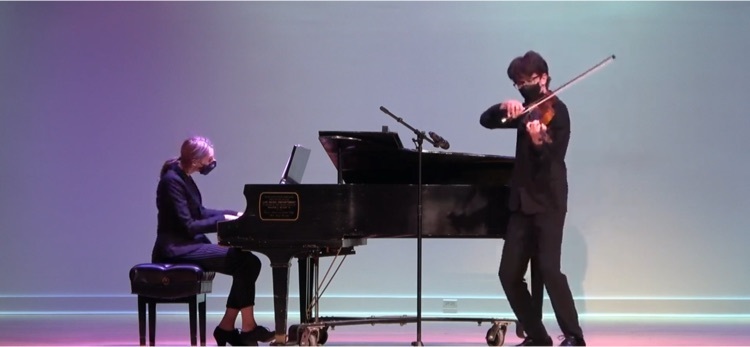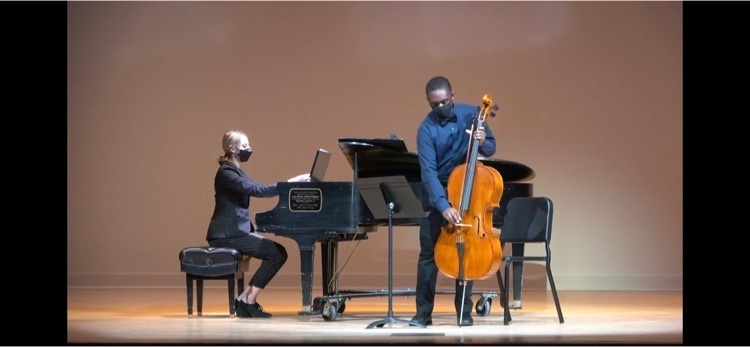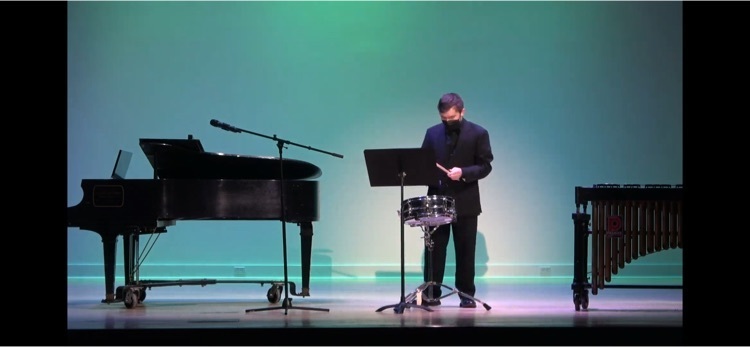 LHS National Honor Society Induction Ceremony 20-21 Head to the link below to view this the 2020-21 Lawrence High School National Honor Society Induction! In this virtual ceremony, Lawrence High School students are inducted into the National Honor Society. The National Honor Society (NHS) elevates a school's commitment to the values of scholarship, service, leadership, and character. We are proud of our students' achievements. Congrats to all of our new inductees! Thank you to the NHS advisers Mr. Mugno and Ms. Mccomsey for organizing this wonderful opportunity.
https://youtu.be/H9eQnPOEBv0

Hello Juniors and Junior Parents! Having heard the cry for Junior Merch, the Junior Class Officers have created a ( Class of '22) sweatshirt and it's been on sale all week! The cost of this sweet hoodie is $40. Reminder that money is due by Monday, May10th. Cash, Venmo and Cashapp are available upon request. Contact Ms. Kind (Jr Class Advisor) or a Junior Officer. See the LHS Website for order form and to see pic of the merch! *** A minimum of 30 orders are necessary to place our order, so help us get our fundraiser off the ground! Order Form Link Below:
https://5il.co/s11j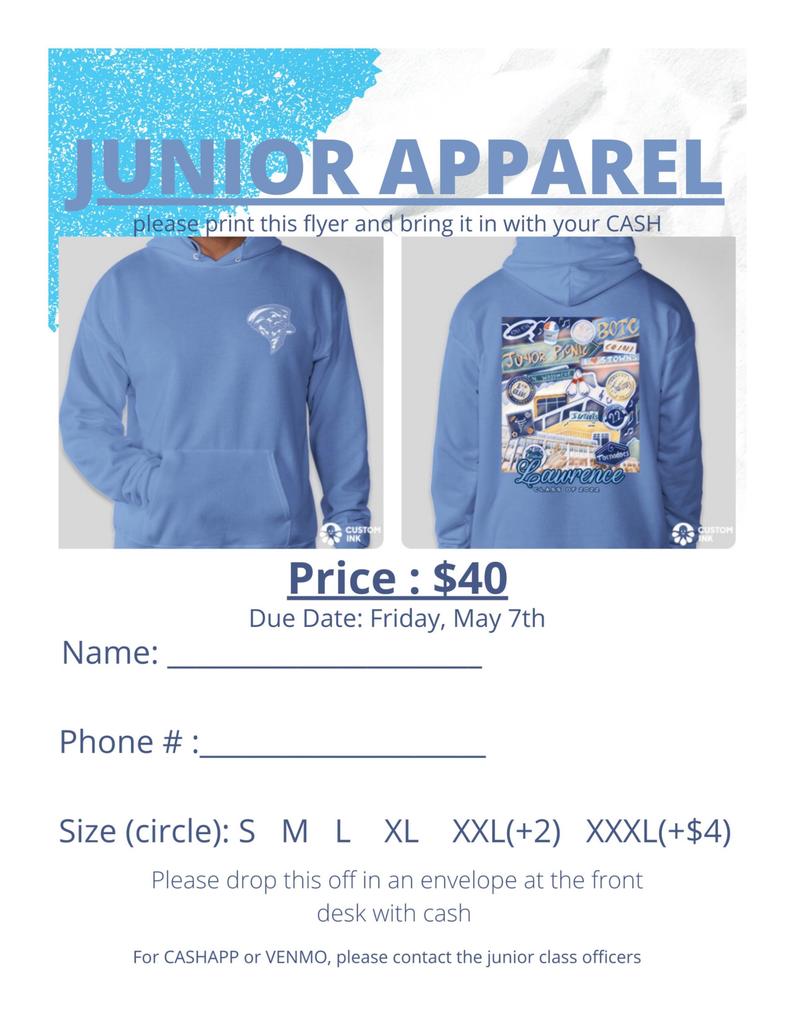 Good morning all,  The Library is now open for students who are free!   Please check out the new additions in Smore #31!  Have a great week! 
https://www.smore.com/x3f4u
-Ms. V

AP Exam Schedule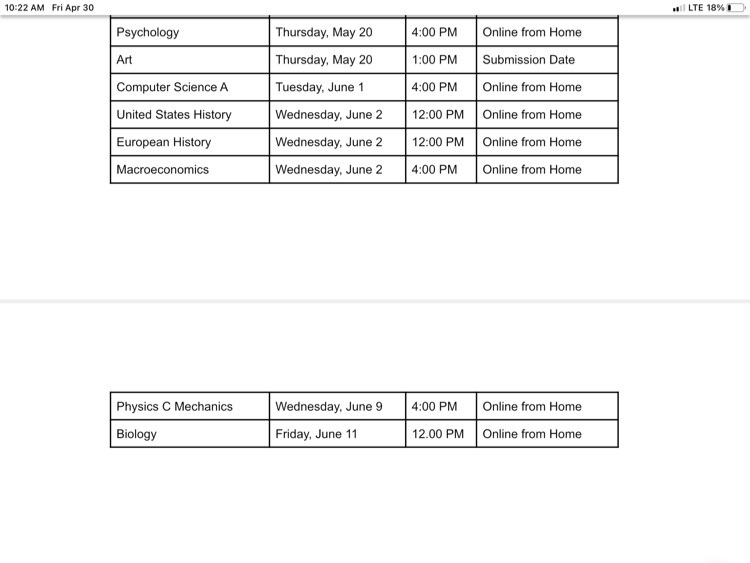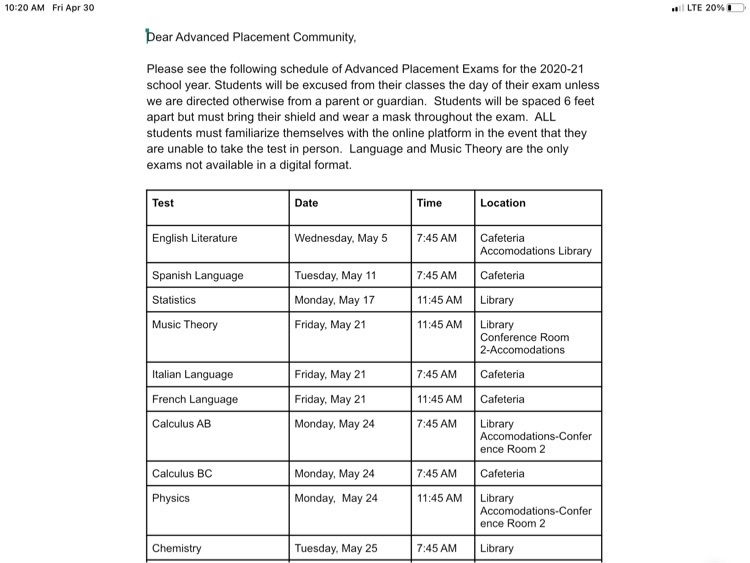 Save the date! Broadway Showcase -
https://youtu.be/twn9c5rXJNE
Date: Thursday, May 27th. 7:00 PM Title: Human Connection: What We've Gained. A Musical Theatre Revue The Music and Drama Department at Lawrence High School Proudly Presents: Human Connection: What We've Gained. This musical theatre revue covers topics such as social emotional intelligence, communication, loss, struggle, triumph, and many of the beautiful things that we have gained over the course of the last year.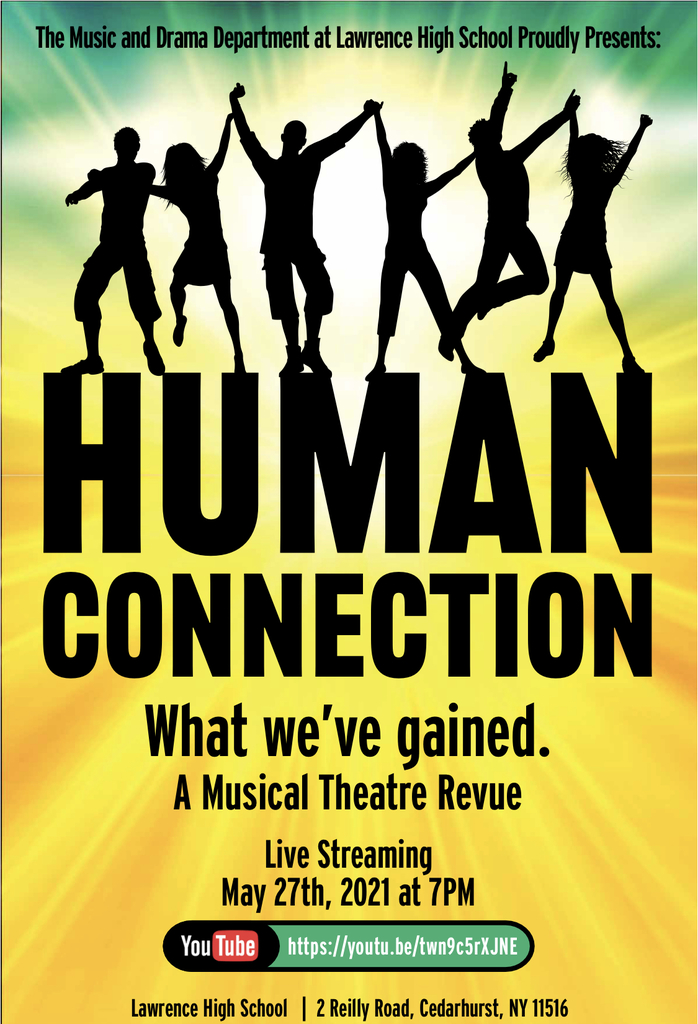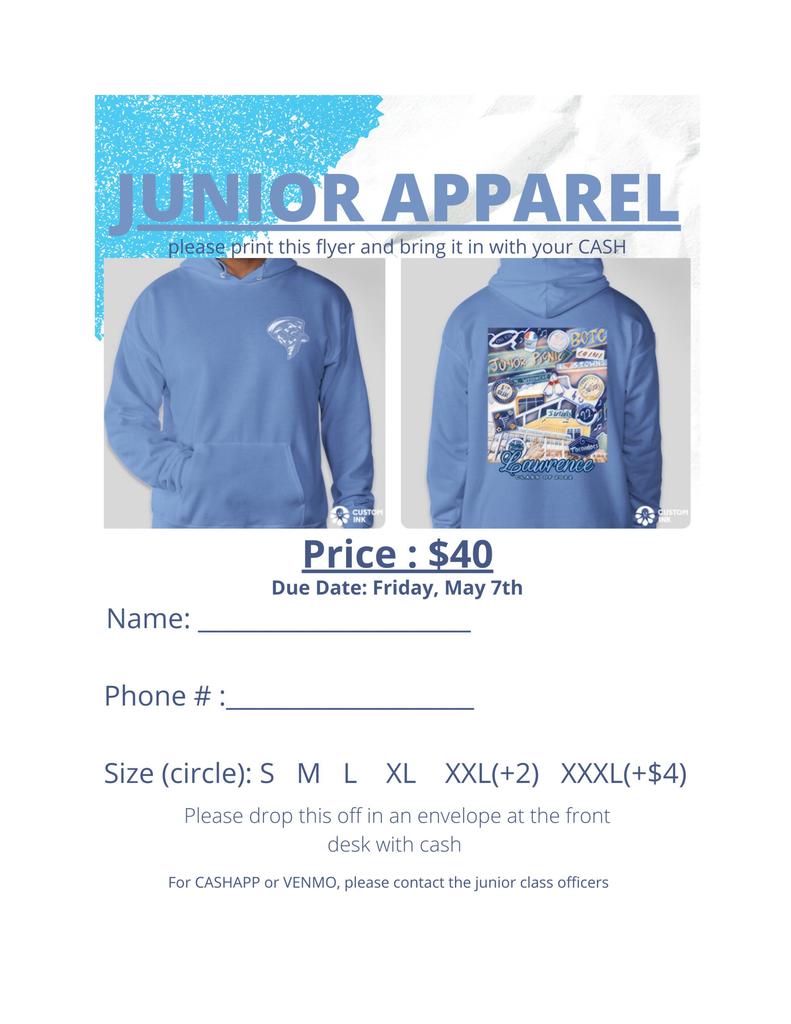 Good Morning! We encourage all remote students to come to the main entrance of LHS before 3pm today or tomorrow to pick up their FREE T-shirts that we would like all students to wear on Friday in celebration of our Mental Wellness Spirit Week! ¡Buenos días! ¡Alentamos a todos los estudiantes remotos a que vengan a la entrada principal de LHS antes de las 3 pm hoy o mañana para recoger sus camisetas GRATIS que nos gustaría que todos los estudiantes usen el viernes en celebración de nuestra Semana del Espíritu de Bienestar Mental!

Good morning, Take a minute to check out the new additions in Library Smore #30!   Have a great week!  
https://www.smore.com/bwxc7
- Ms. V

Be sure to tune in and support our Boys Varsity Volleyball team as they continue their playoff run today against Bethpage. Click on the link below to watch the livestream! Go Tornadoes!!!
https://youtu.be/vRYHwFoSit0

Thank you to Tri-M Music Honor Society and Mr. Riley for putting together to wonderful video below, titled "What does music mean to me?". "I hope that this spring season is bringing you regrowth and renewal as we all begin to regain a more normal way of life. Like all of us, the students in Tri-M Music Honor Society have begun to return to doing the things that they love among the people whom they care about. Recently, our officers put together a meaningful video about what music means to them and some of the other members of Tri-M. The video is under 5 minutes and is truly beautiful. " - Mr. Riley
https://drive.google.com/file/d/11AnBmC2bsQX6bXj9qurGt9j5nK4diDjk/view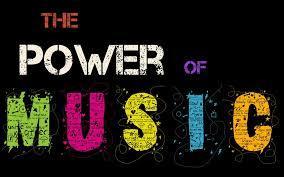 Please tune in to support our Varsity Boys Volleyball team as they start their playoff run against Great Neck North. Thank you for you support.
https://youtu.be/fkoaVMCnHIw

Good afternoon Lawrence High School! Our Mental Wellness Spirit week begins on Monday, April 26th. Let's work together to learn about the importance of Mental and Physical Health on Academic Success! We will celebrate the many ways we can impact our brain and body in positive ways. On Friday, April 30th, students and staff will wear our matching T-shirts. Full remote learners, please watch for a message on how and when to pick up your shirt. A letter and flyer with the week's events can be found at:
https://core-docs.s3.amazonaws.com/documents/asset/uploaded_file/1222512/LHS.pdf

Mental Health Wellness Week April 26-30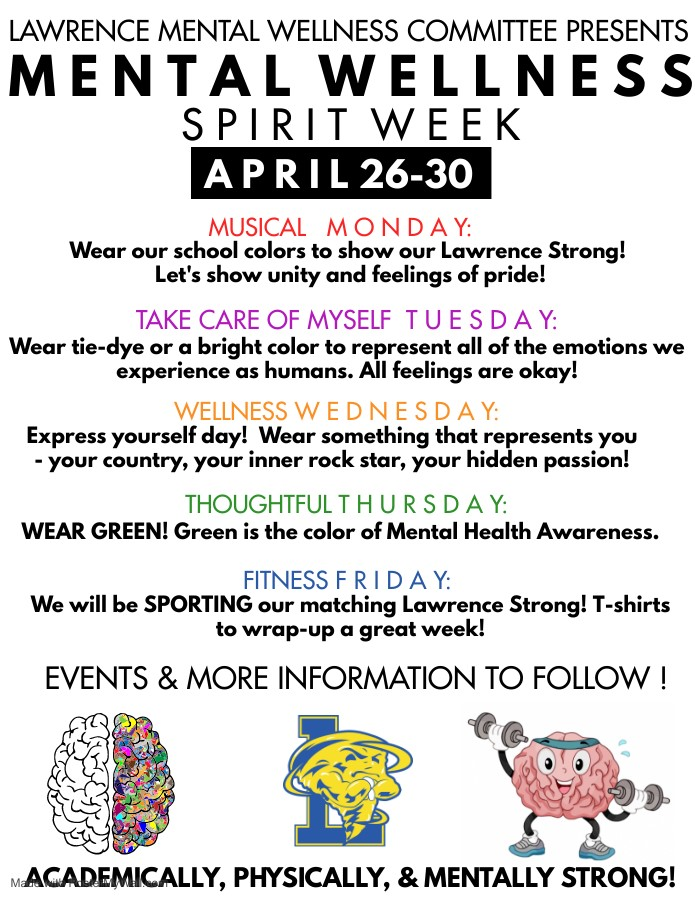 Good morning Lawrence families. This Thursday (April 22nd), Northwell Health will be at the Five Towns Community Center distributing Coronavirus vaccines to individuals 18 years & older. Appointments are required and can be made online at
https://northwellvaccine.force.com/s/?id=a1T4x000007TenCEAS



Good Afternoon LHS, please tune in to support our Boys Volleyball team as they take on Kennedy Bellmore today @ 5pm. Click on the link below to watch the Livestream. Lawrence High School would also like to Congratulate the four Seniors on the team. You will be truly missed! Thank you for the hard work and effort Thomas Rincon, Matt Guevara, Willy Benitez and Junior Salomon.
https://youtu.be/tKOCWF4ZFIU

Calling all students for the LHS poetry contest.