Good Afternoon, Please tune in to watch our Lady Golden Tornadoes Varsity Girls Volleyball team take on Levittown Division today @ 5:00pm. Please click on the link below.
https://youtu.be/EPGU7dx6x14

A message from Ms. Bayeva: Lawrence High School Seniors Only! Your officers, Dr. Lagnado, Mr. Walker and I are very excited that our First "Movie Night Under the Stars" will happen this coming Thursday!!! Parking starts at 6:45 pm and showing- at 7:30 pm. If you do not have a car, then bring a chair or get one from the school. The car (4-5 ppl) will cost $20 and a single person chair - $5. The movie - "Spiderman homecoming ". Venmo Ms. Bayeva or bring Cash. Will be selling snacks and our fantastic PTA will be responsible for water/soft drinks. I will be posting the Sign-up info form to be able to create safe payment/ distancing/parking! Highly suggest you bring a blanket to wrap yourself up since it is still chilly in the evening! Ms. Bayeva


Good Morning, Be sure to tune in to watch our Varsity Boys Volleyball team take on Bethpage HS @ Lawrence HS. Please click on the link below.
https://youtu.be/bticB6YaDbw

Good Afternoon, Please tune in to watch Lawrence HS Varsity Boys Volleyball team take on Wantagh @ 5pm. Click on the link to watch today's Livestream
https://youtu.be/G1TAIOZt2tw


Good afternoon Lawrence families! The current grant Lawrence received to provide Hotspots to families in need will be expiring after this year. We are in the process of applying for a new grant that will allow students and their families who do not have internet access at home to receive internet for free through AT&T through June 2022. The application can be completed tomorrow from 12-4PM at Lawrence Primary (#2) School by the gym doors. The application, and more information on the program, can also be found at
https://core-docs.s3.amazonaws.com/documents/asset/uploaded_file/1181806/AT_T_Application_Waiver.pdf


Big shout out to Frank Echeverria and Gabriel Viera who were recognized by Newsday as two of the top 100 high school soccer players on Long Island this season! Here's what they had to say about our amazing student-athletes: Frank Echeverria, Lawrence, CB, Jr. The leader of the aggressive Golden Tornadoes defense has the footwork and skill-set to help out on the offensive end. Echeverria has the physical edge needed to succeed on the defensive end. Gabe Viera, Lawrence, F, Jr. A natural goal-scorer who can slow the game down and finish in the offensive end. He is primed for a breakout year with a larger role after finishing with seven goals and five assists last season.

Thanks to the LHS Media Club for creating this: Special News Report from the LHS Media Club: How Covid has impacted LHS? Featuring Lawrence students, staff, and Assemblywoman Melissa Miller!
https://youtu.be/aMvBx4NvT-k

Attention JV Football: Due to the inclement weather, JV Football practice is canceled today. We will practice tomorrow at 3 PM sharp! See you all then. Coach Spinelli

Stop by the Five Towns Community Center this Saturday and pick up some FREE books!!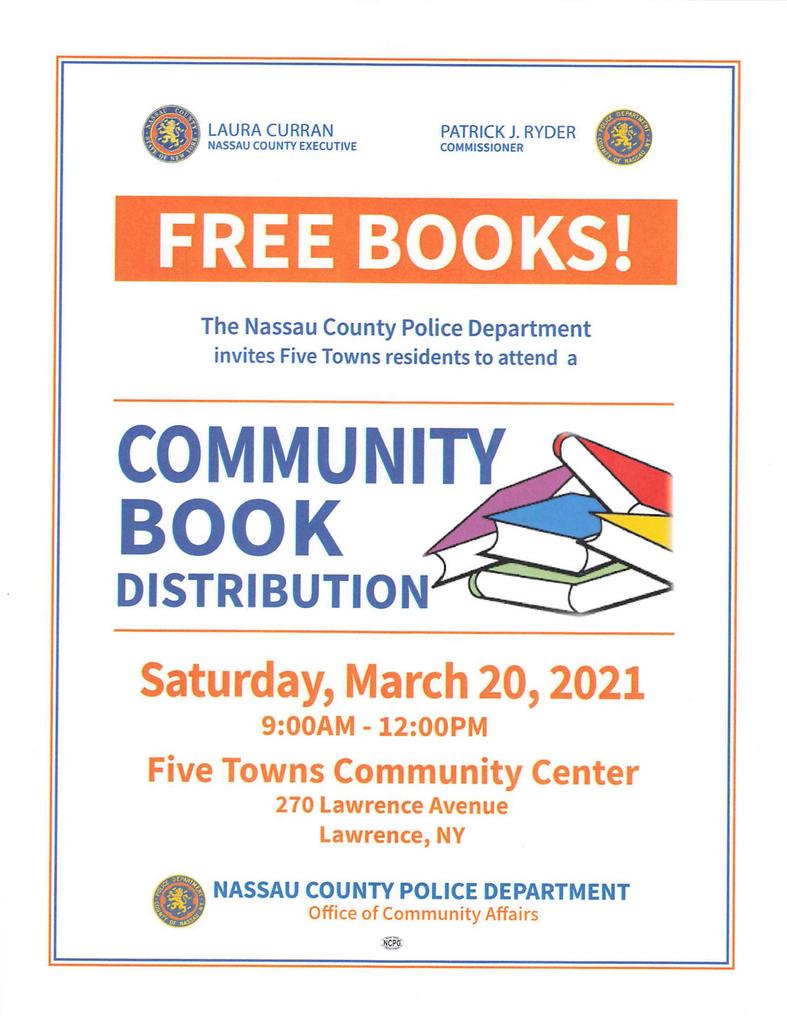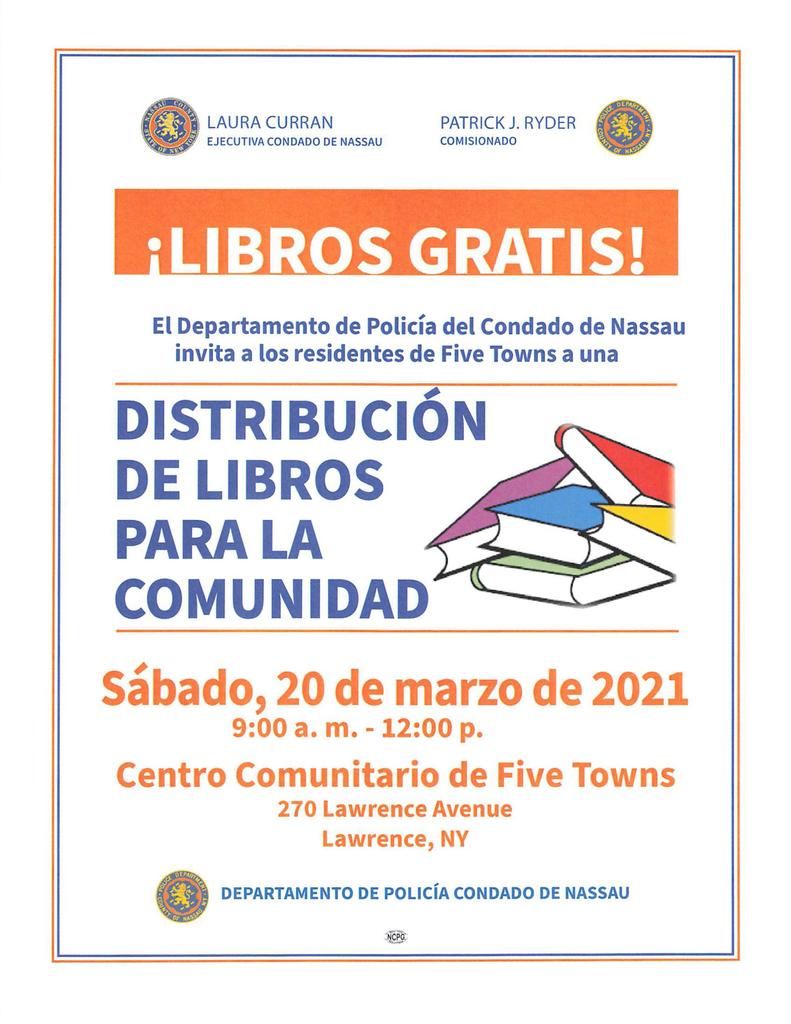 Virtual College Information Panel March 22, 2021: 7:00 PM HOLLER invites all high school students and their families to attend this one of a kind event. Come explore the college process directly from our college admissions experts. Topics will include financial aid, the college essay, testing, navigating college in the time of covid, opportunity programs and more!!! In addition to our live college event, we will be launching a HOLLER YouTube channel covering all topics related to post secondary readiness. Please use this link below to subscribe to our unique HOLLER YouTube channel and participate in our live event:
https://www.youtube.com/channel/UC3YkPq9cK5O9VtmVSdYgi6A

Beginning tomorrow, Wednesday March 17, the times for meal distribution at the Primary (#2) School will be 9 AM - 11:15 AM.

Starting on March 16th 2021, Lawrence High School will begin to allow 2 spectators per student athlete for outdoor sporting events. Attached is a link to the spectator policy:
https://5il.co/qn2i