Ms. Mendez took the LHS Statistics classes to participate in a field trip to Just Escape in Massapequa, NY. The students tried to escape locked rooms by working together to solve puzzles using logic and problem solving. After compiling their escape times they will perform a statistical analysis by calculating the probability of their own escape times relative to the population mean and standard deviation of mean escape times at this venue in the last year. The Stats students wore Red Noses to bring awareness about child poverty in the US for Rednoseday.org. Special thanks to Ms. Lev on accompanying 50 students on this fun filled day of exploratory statistical analysis!

Thank you to Brad Slepian (Assistant Principal Nassau BOCES Adult Education) for presenting to our students today on the wonderful trade programs that are offered at Nassau BOCES.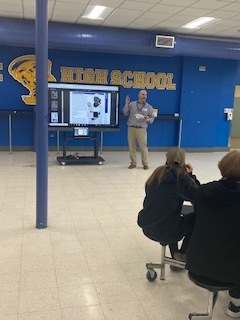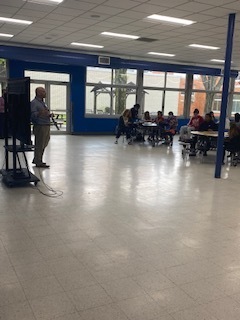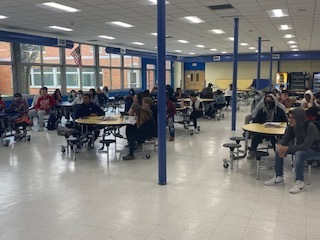 The Lawrence District Art Show is only 2 weeks away!!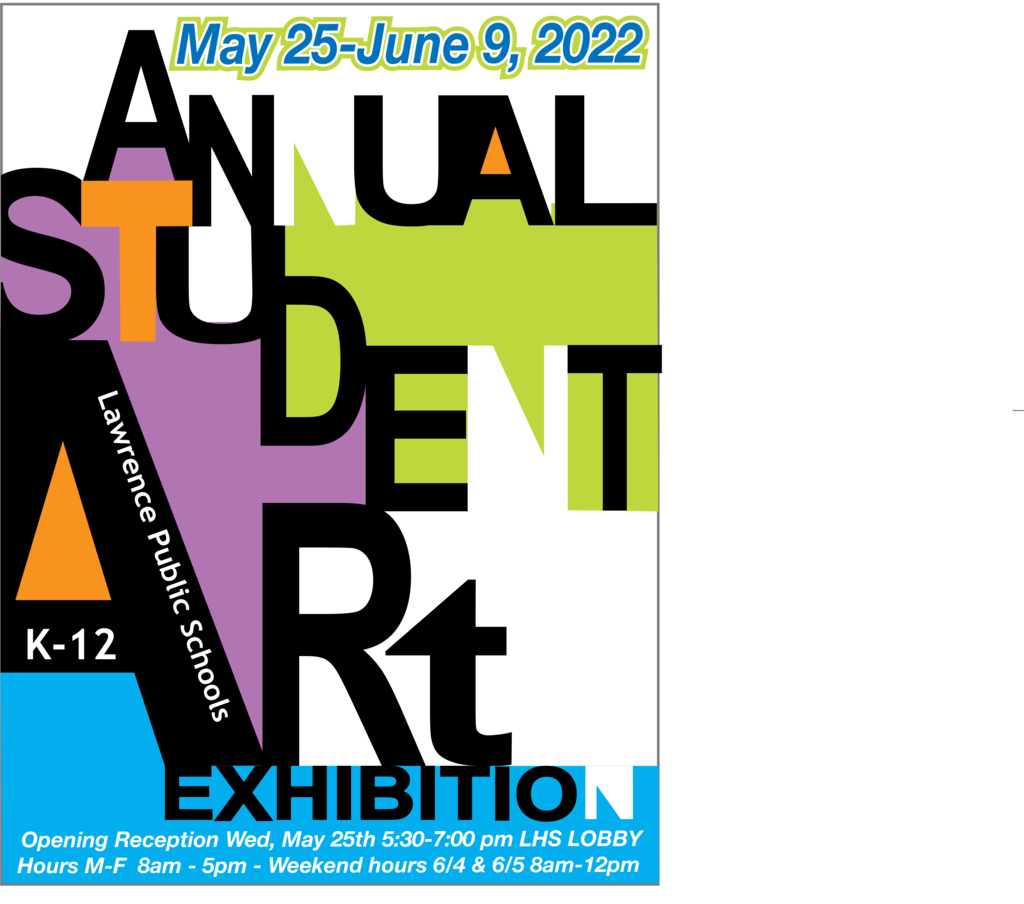 ATTENTION ALL JUNIORS!! Time to have some fun after all the hard work is almost done!!Come make some memories!! Friday, June 3rd is the Junior Trip Get your friends to join us on the annual trip to Dorney Park! Permission Slips can be found outside your English Class room doors! The cost is $75 CASH due before Friday, May 20th!Please bring your permission slip and money to a Junior Class Officer, or Mrs. Kind in an envelope labelled with your name. Incompleted Permission Slips will not be accepted! Please see Mrs. Kind if you have any questions. Dorney Park, the trip you'll remember long after you graduate!!!!! -- John BallantyneAssistant PrincipalLawrence High School 


We had a very busy week at the High School. AP exams, Broadway Showcase, Mental Wellness Spirit Week and the beginning of Weekend Academy. The end of the year activities are in full swing.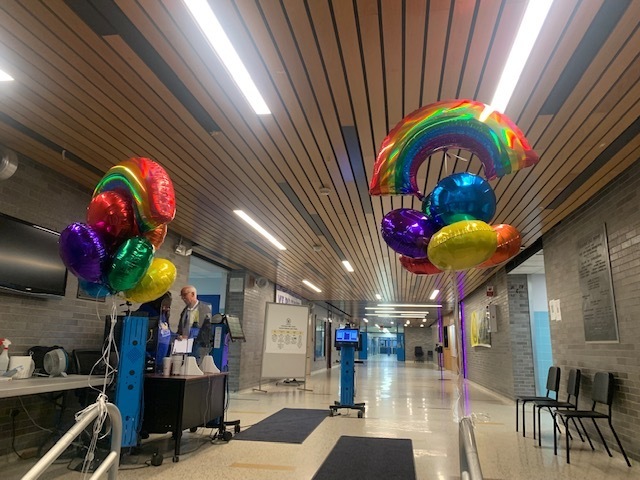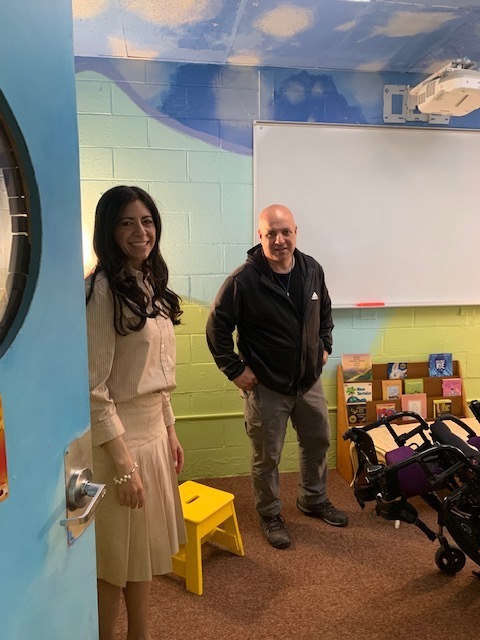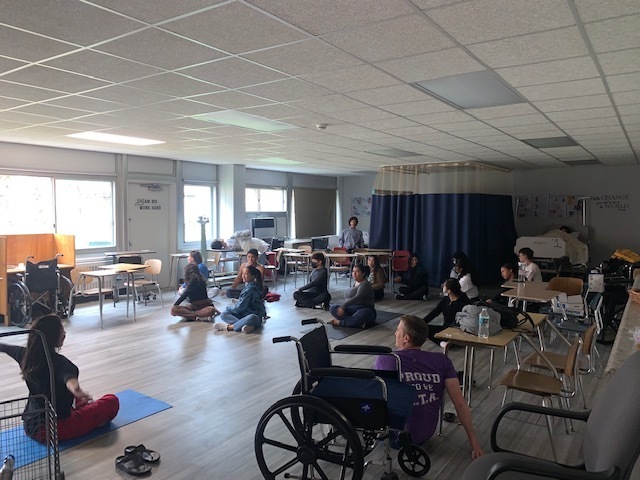 Reminder- TOMORROW LHS Broadway Showcase 7PM LHS Auditorium All are welcome! $5- Students $10- Everyone else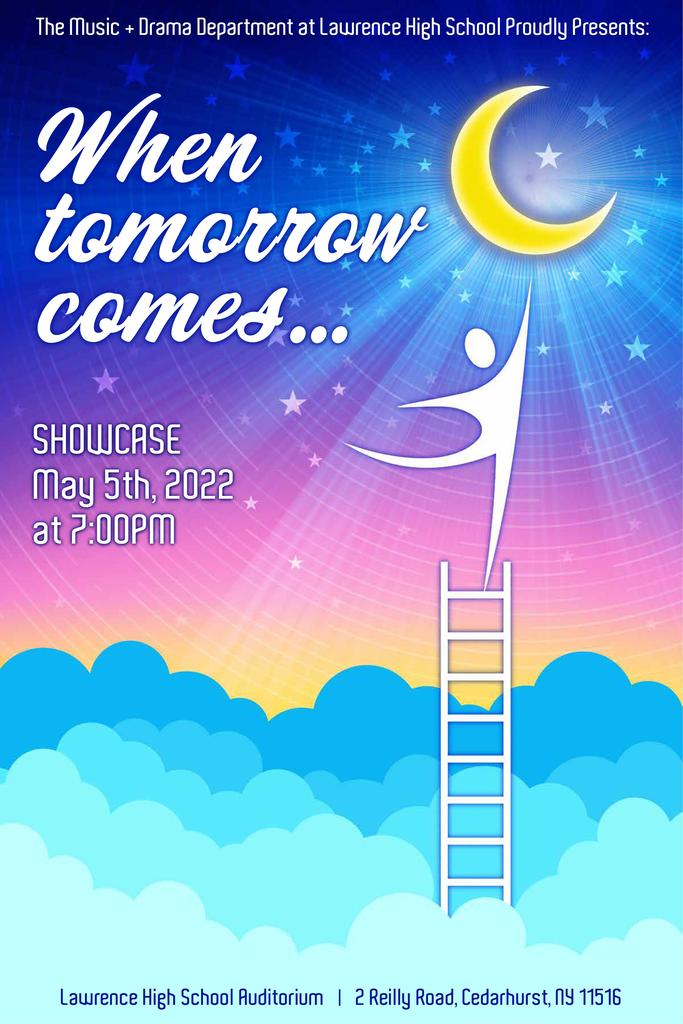 Weekend Academy for June Regents Exam Review begins THIS WEEKEND!! Please see the attached schedule. We encourage ALL students scheduled to take a Regents Exam to attend as many sessions as possible!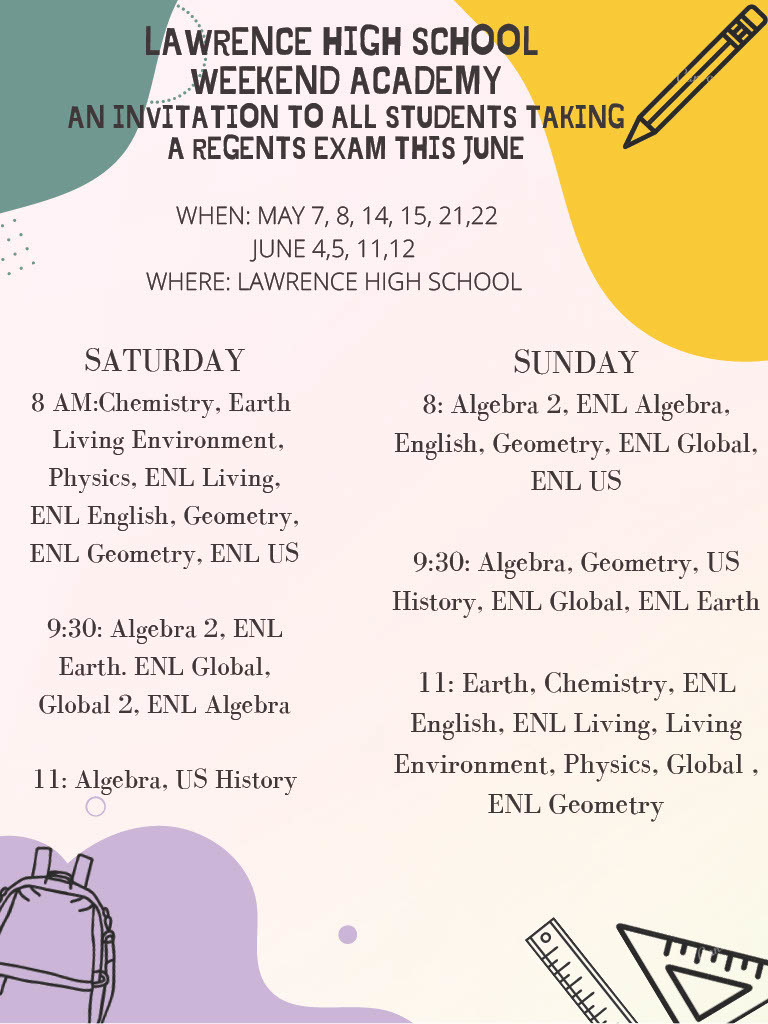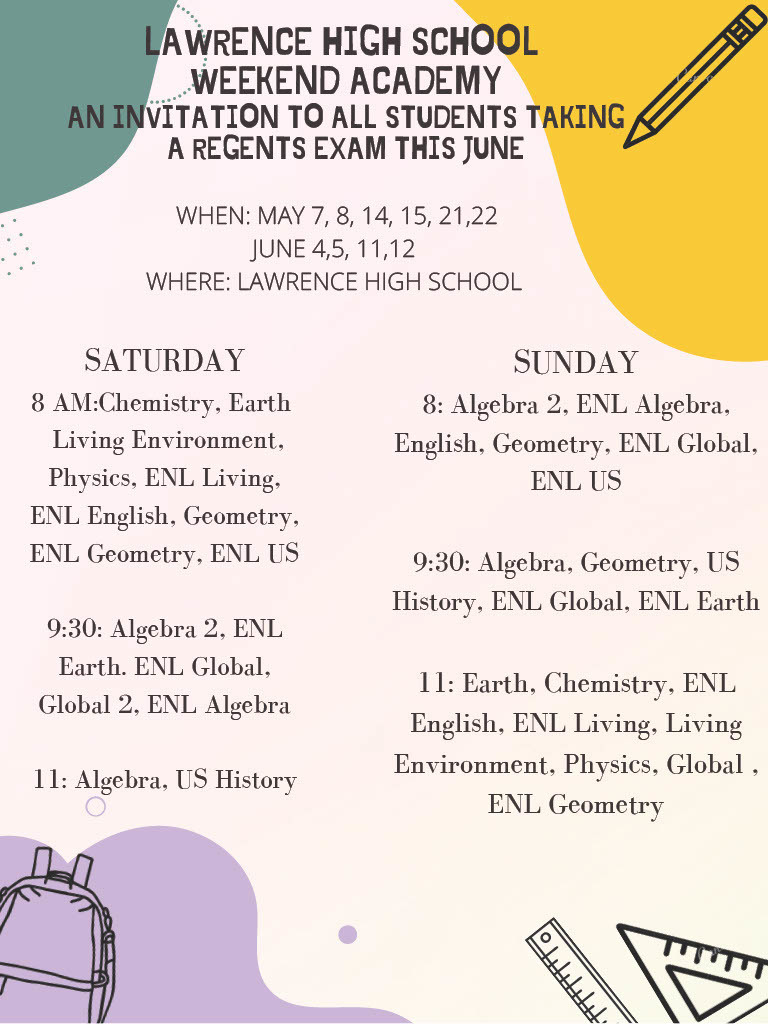 Lawrence School District Annual Dance Show! SAVE THE DATE: THURSDAY, MAY 19th at 7pm. Tickets can be purchased at the door. $10 for General Admission and $5 for Lawrence Students. An Evening of Icons and Idols who bring us Joy to get up , get out and Dance! A SHOW NOT TO MISS!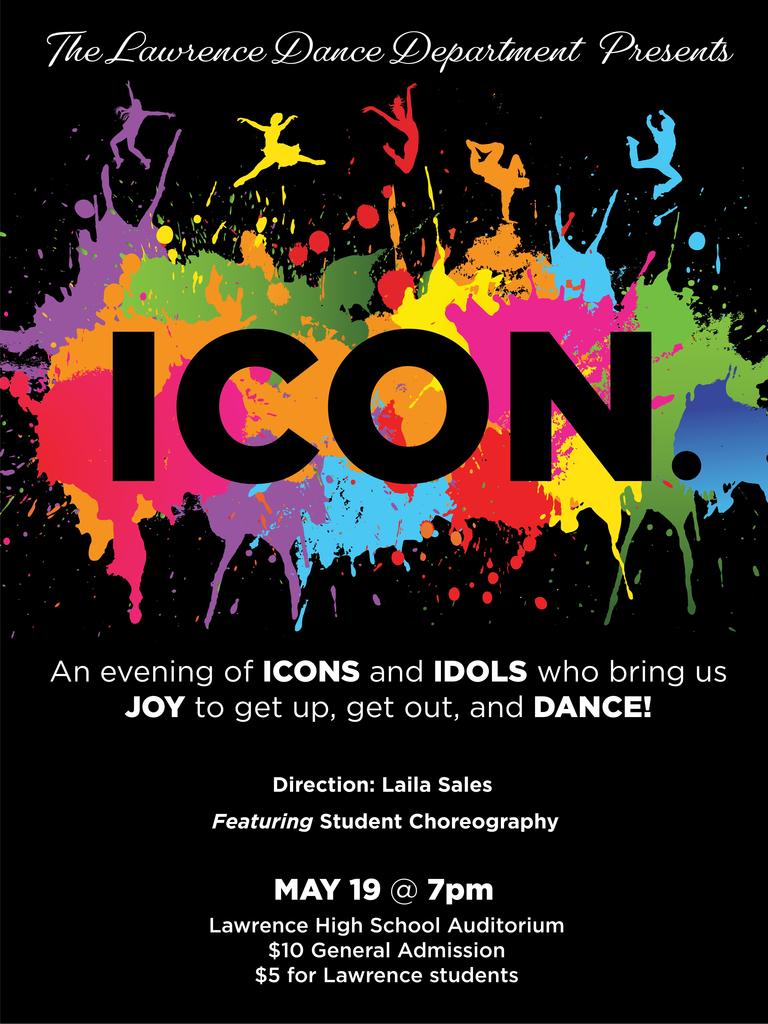 UPDATED: Good Morning Lawrence!! Welcome back! Final Exams and the New York State Regents Exams needed for graduation begin in 29 days!! Please see our updated schedule at the link below:
https://5il.co/19rzx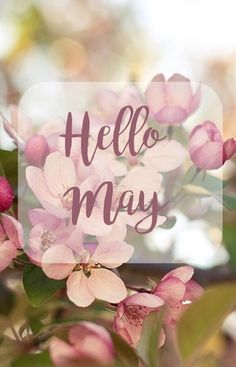 Happy Friday LHS!! Next week we will be celebrating our Mental Wellness Spirit Week!! We invite all students to participate in our dress up days which will coincide with some wonderful mental wellness lessons throughout the week! Monday 5/2-Wear yellow and blue to show we are Lawrence Strong! Tuesday 5/3- Dress: Wear tie-dye or a bright color to represent all the emotions we experience as humans. All feelings are okay! Wednesday- 5/4- Express yourself today! Wear something that represents you –your country, your inner rock star, your hidden passion! Thursday- 5/5- WEAR GREEN! Green is the color of Mental Health Awareness. Friday- 5/6- Dress for Fitness Success! Mental Wellness Strong (Last Year) T-shirt, Workout Attire Have a "Lawrence Strong" Weekend!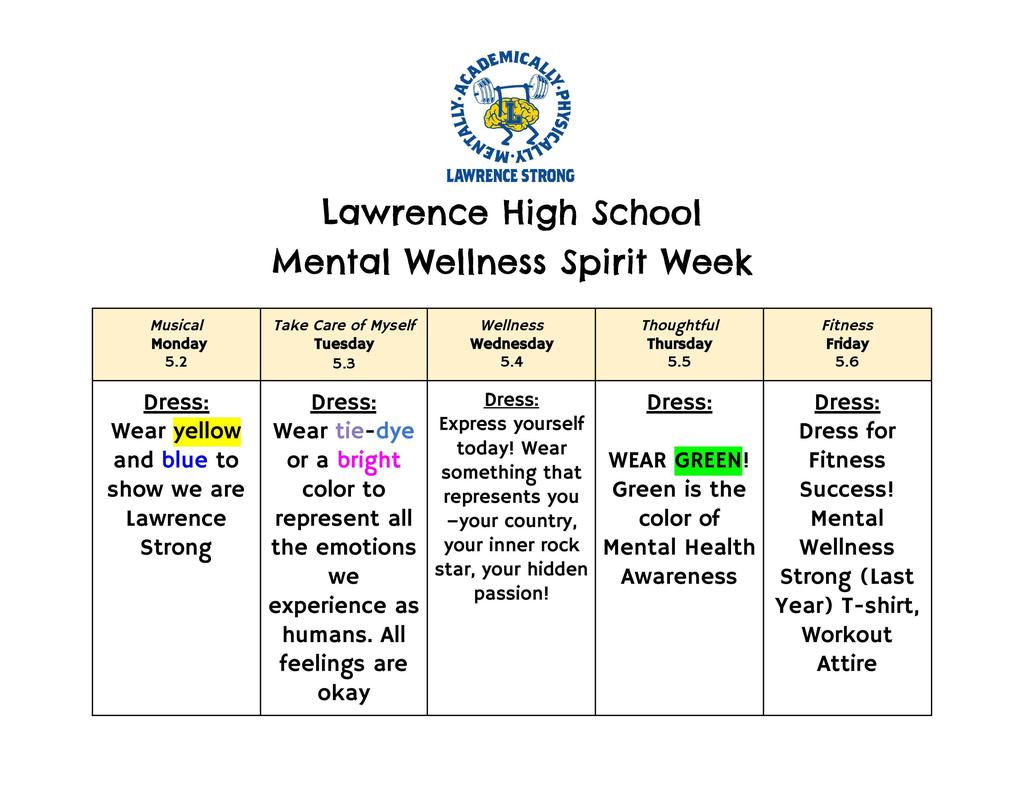 Reminder- THIS EVENING Parents and Guardians of English as a New Language Learners You are invited to ENL PARENT NIGHT Thursday, April 28th 5pm Lawrence High School Cafeteria Topic: State Assessments Refreshments will be served RSVP Below
https://forms.gle/QN46HJnUNCZsLXueA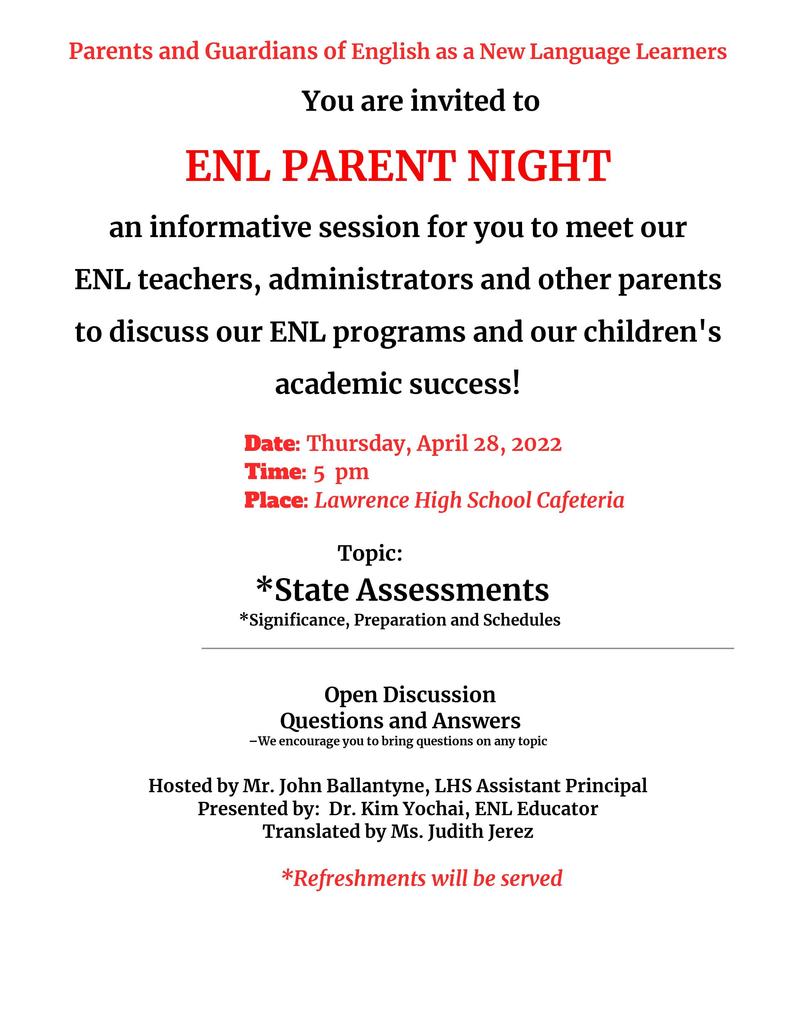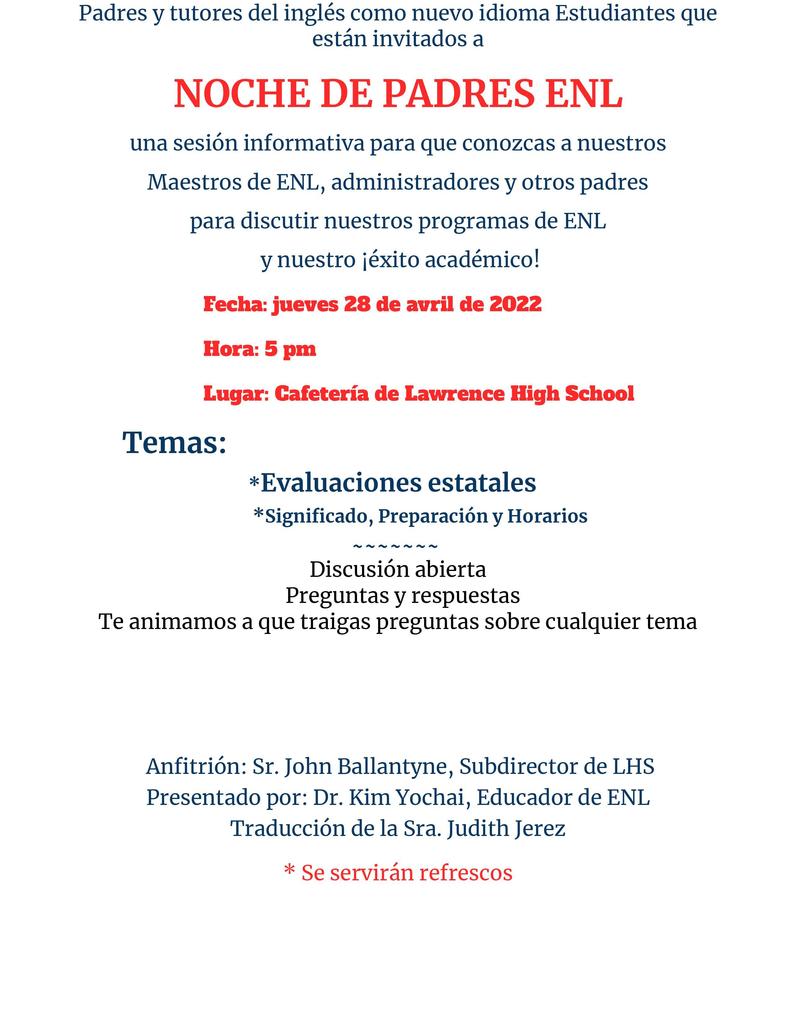 Lawrence families, our food service company, Whitsons, is interested in getting your feedback to help them improve service to your children. Please complete the survey linked here:
https://xmp.insight-surveys.com/s/whitsons
Thank you.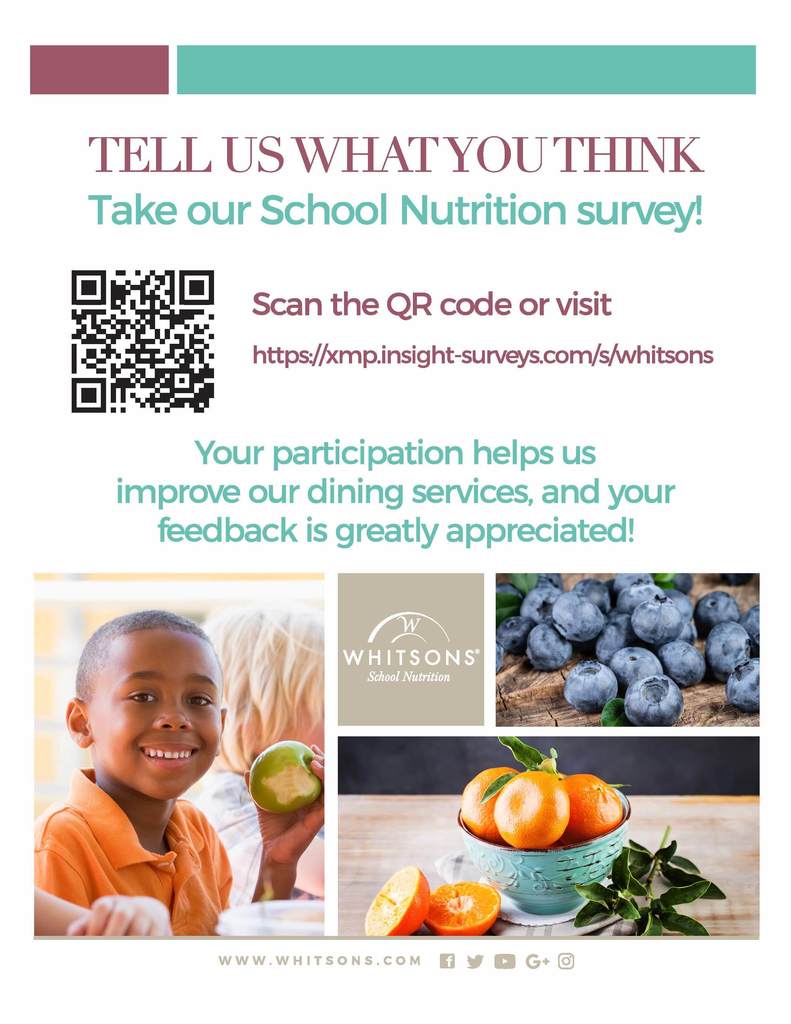 We are looking forward to seeing you at our Mental Wellness Night for families on May 4th at 6:15 at the Primary (#2) School. This event will include DINNER and workshops for Lawrence Public School parents and students. Child care available for younger children. Please fill out this form to save your seats!
https://forms.gle/FmHuuWfdvAEHF4r97

AP EXAM INFORMATION: Attention AP Students & Parents/Guardians: Students will be marked as Educational Testing for the entire day, however they may attend other classes if they desire. Students should report to their AM exam no later than 7:45 and PM exam no later than 11:45. Supervisors will be present to direct students to their assigned seats. Students must bring: Two sharpened pencils with erasers Two pens- blue or black ink only Approved calculators A ruler or straightedge if taking Physics Students are not permitted to wear smart watches or have cell phones on them.

TONIGHT at LHS SHAKE IT UP! This production celebrates the life and work of William Shakespeare. The evening will present excerpts of William Shakespeare's famous works with a touch of song, music, and dance. This intimate production will take place (TONIGHT) TUESDAY, April 26th at 7pm in the Lawrence High School Auditorium. Please join us. We are so very proud of the work these students(actors, dancers, musicians and singer) have accomplished.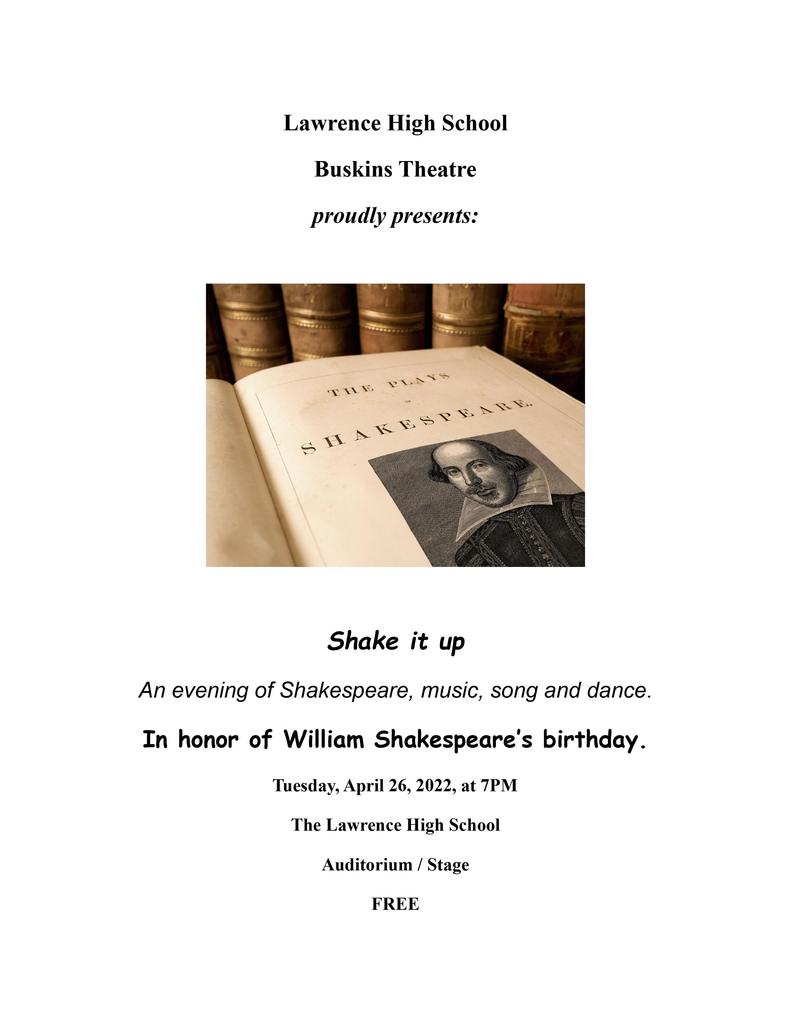 Parents and Guardians of English as a New Language Learners You are invited to ENL PARENT NIGHT Thursday, April 28th 5pm Lawrence High School Cafeteria Topic: State Assessments Refreshments will be served RSVP Below
https://forms.gle/QN46HJnUNCZsLXueA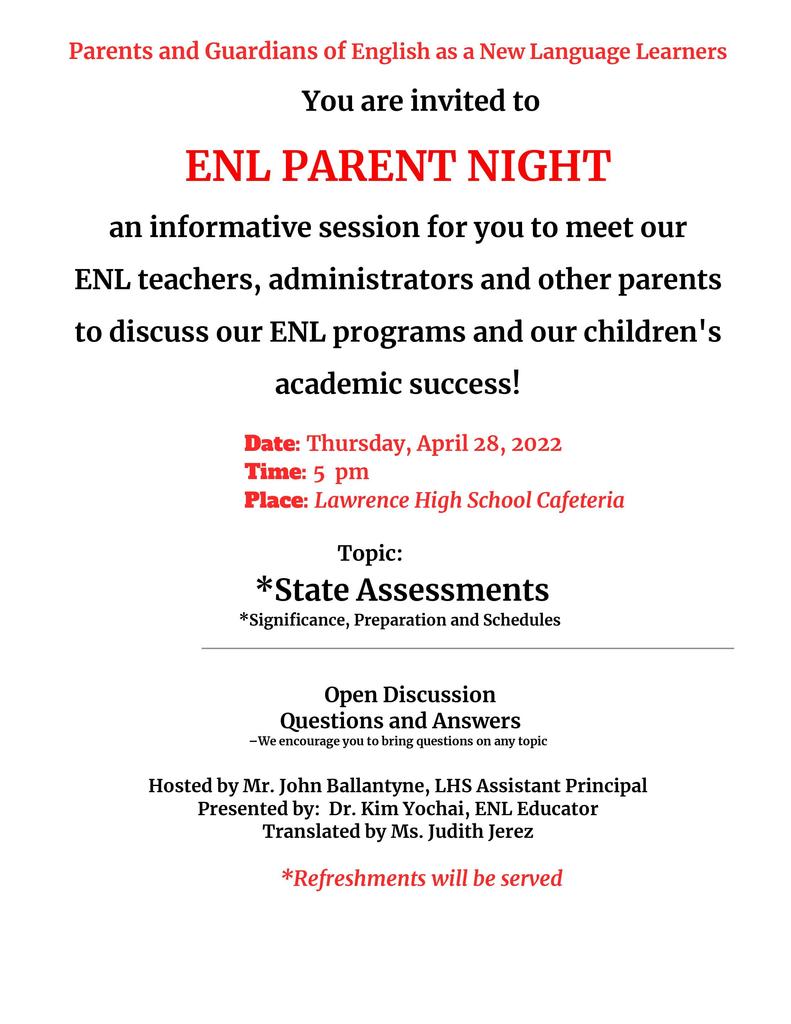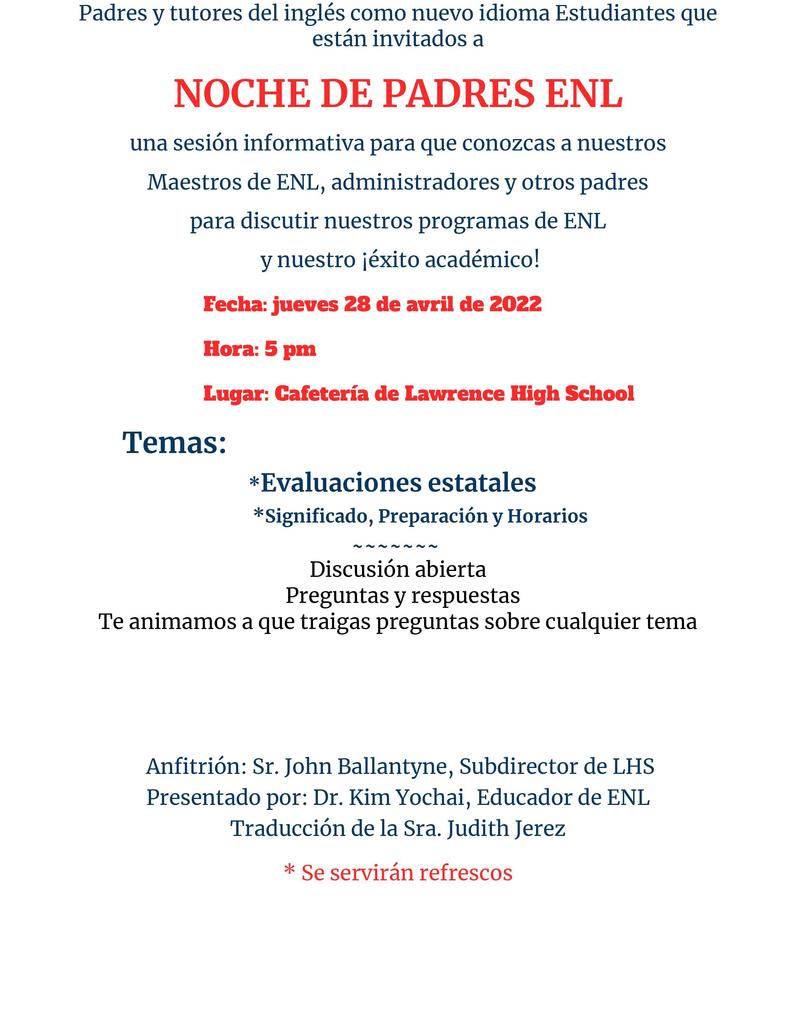 Good Morning Lawrence!! Welcome back! Final Exams and the New York State Regents Exams needed for graduation begin in 37 days!! Please see our updated schedule at the link below:
https://5il.co/19bl9