College Admissions En Español
Tuesday, December 8, 2020
7 p.m. – 8 p.m.
Join us for a Spanish information session & panel discussion on college admissions!
Learn about admissions processes to public & private institutions, navigating financial aid, changes related to COVID-19 & so much more.
Connect to our session with family & friends!
Registration required using the following link:
https://apply.mmm.edu/register...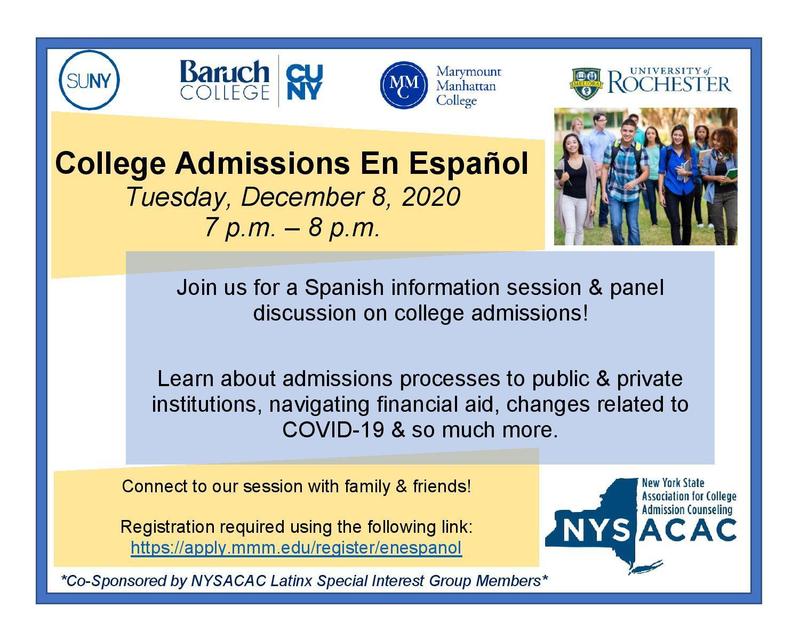 Proceso de Admisión Universitaria en Español
martes, 8 de diciembre, 2020
7 p.m. – 8 p.m.
¡Acompáñenos para una sesión informativa y un panel de discusión sobre admisiones universitarias completamente en español!
Obtenga información sobre los procesos de admisión a instituciones públicas y privadas, cómo aplicar para ayuda financiera, cambios relacionados con COVID-19 y mucho más.
¡Conéctese a nuestra sesión con sus familiares y amigos!
Por favor visite hoy nuestra página web para regístrarse:
https://apply.mmm.edu/register...