Administrative Organizational Chart
Lawrence High School is staffed by 5 full time Building Administrators. There is a Building Principal who is responsible for overall building management, three Assistant Principals and one Chairperson who assists the Principal. Each Assistant Principal and Chairperson is assigned a number of responsibilities as well as a grade level. Each Administrator follows their grade from 9th grade through to graduation and is responsible for their grade's day-to-day attendance as well as other student management functions.
View the Lawrence High School Organizational Chart
---
Lawrence High School is proud to announce the following for the Class of 2017:
Valedictorian – Allen Green
Salutatorian – Aaron Casanada
Honor Speaker – Barbara Williams
Congratulations to these hardworking students!
---
---
---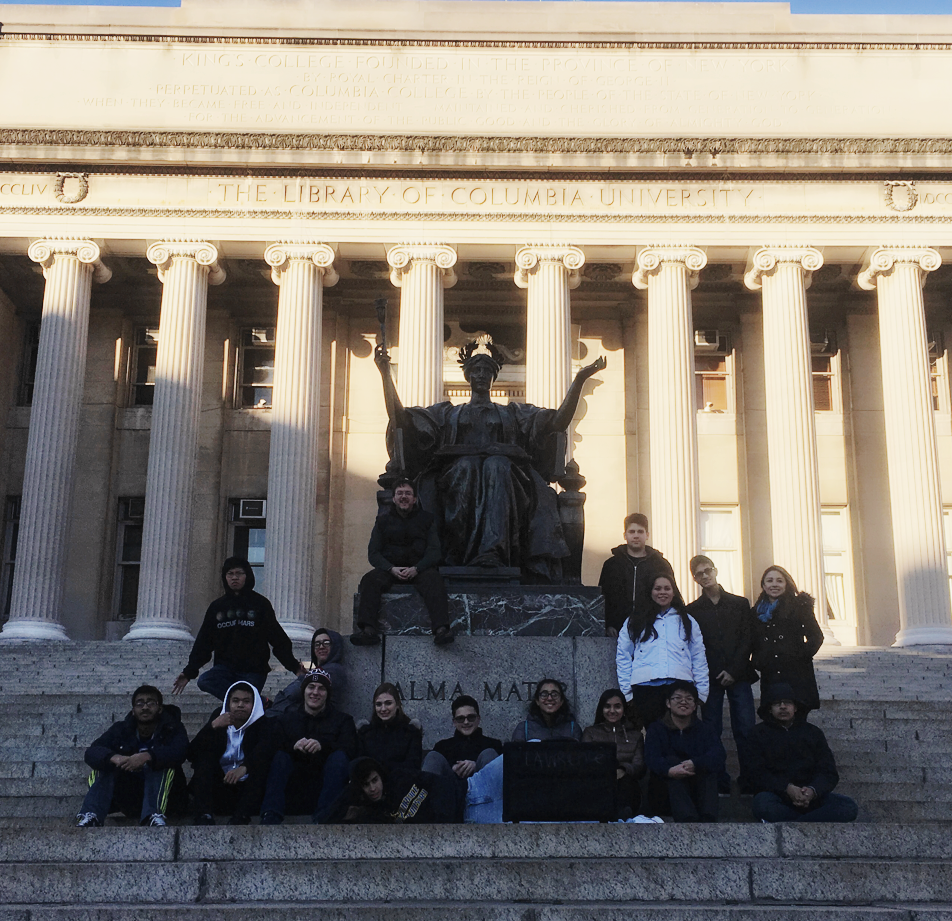 The Lawrence Quiz Bowl Team competed on Saturday, March 4th in its first National Invitational tournament at Columbia University. Rival Teams included Regis, Bronx Science, Hunter High School and Great Neck. Some came from as far away as Ithaca.
Allen Green and Aaron Castanada were among the top individual scores in the National (Varsity) Division. Eric Kolchinskiy and Ethan Breban were among the top individual scorers in the Standard (JV) Division. The team, coached by Dr. Stephen Sullivan, is a new addition for 2016-17.
National (Varsity) Team
Allen Green (Captain)
Emma Balsam
Aaron Casanada
Joseph Cursio
Jessica Mastorides (not in photo)
Alex Padilla
Standard (JV) Team A
Nicholas Williams (Captain)
Jece Abuan
Eric Kolchinskiy
Stacy Portillo
Roshan Reddy
Standard (JV) Team B
John Chen (Captain)
Ethan Breban
Anoushka Guha
Bhawan Sandhu
Zaiff Khan
Coach: Dr. Stephen Sullivan
---
2017 NATIONAL YOUTH SCIENCE CAMP OPPORTUNITY
---
ATTENTION JUNIORS!
Now is the time to start registering for the SAT or ACT.
www.collegeboard.com (SAT)
www.act.org (ACT)
Please see your guidance counselor for any questions.
---
Love Linda Inc. Scholaship Application
---
The Michael D. Richardson Foundation Scholarship
1. Students must show financial need
2. Students have Algebra, Geometry, Trigonometry, Calculus, up to Physics on their transcript
3. Be a US citizen or resident alien
4. Minimum of an 85 average in 4 academic subjects
5. Three (3) of teacher letters of recommendation 9
(math, ELA, SS, science, principal)
6. One (1) letter from Clergy, community service, etc.
Please see your counselor for an application.
DEADLINE IS MARCH 31ST
---
Attention Student Athletes!
If you are interested in participating in either Division 1 or Division 2 athletics, on the collegiate level, please open the following link for important information on how to register with the NCAA as a student athlete.
www.ncaa.org/student-athletes/future/how-register
---
---
Lawrence High School 2016 Financial Aid Planning Night
---
Please note there will be a change in the date of the 2017 Senior Prom.
The new date for Lawrence High School's Senior Prom will be:
June 20th, 2017
Tuesday, 6-10 pm
Bridgeview Yacht Club